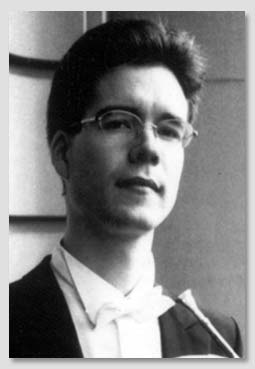 Olivier Darbellay
was born in Bern in 1974 and started his musical studies at the Bern Conservatory as a cellist in the class of Patrick Demenga and Peter Hörr and as a horn player with Thomas Müller and David Johnson as his teachers. He completed his studies with Bruno Schneider in Freiburg, specialising also in natural horn with Th. Müller at the "Schola Cantorum Basiliensis" in Basel.
Since winning the music competition of the "Communauté des Radios publiques de langue françaises" in 1999 as 'Soliste de l'année 2000' and being awarded first prize at the competition of the 'Tribune des jeunes interprètes' in 2000 in Lisbon, he is a regular guest in the most prestigious halls and festivals.
As a soloist he performed with orchestras such as the Moscow Symphony, the Moscow State Philharmonic, the Orchestre Philharmonique de Liège, the Orquestra Sinfonica Portuguesa, the Radio Chamber Orchestra Bucharest, the Tokyo Sinfonietta, the Südwestdeutsche Philharmonie, the Chamber Orchestras of Basel and Zurich, the Symphony Orchestras of Bern and Biel and the Camerata Bern under conductors like Schiff, Holliger, McCreesh, Kitajenko and Sakari.
Chamber music plays an important role in Olivier Darbellay's career, bringing him to perform across Europe, Russia, the USA, Canada, Hong Kong, China, Japan and Australia, with various ensembles and partners such as Joshua Bell, Patricia Kopatchinskaya, Erich Höbarth, Mirjam Contzen, Heinz Holliger, Konstantin Lifschitz, Hermann Baumann, Peter Hörr, Sol Gabetta, Christoph Prégardien and Mark Padmore.
He is a regular guest at festivals such as the Lucerne Festival, Berliner Festwochen, Menuhin Festival Gstaad, Verbier Festival, Présence Paris, Montpellier, Wratislawia, Rheingau Festival, Grafenegg, Davos, Ittingen, Murten, Meiringen, Boswiler Sommer, the Barossa and Oxford Chamber Music festivals, as well as IGNM Hong Kong.
An important part of his activities focuses also on the contemporary repertoire as a soloist and as a member of the Collegium Novum Zurich and the Ensemble Contrechamps (Geneva), where he took part in many world premieres. Among several pieces dedicated to him was Holliger's "Induuchlen"-Duo, the world premiere of which was at the 2006 Lucerne Festival.
In addition he is regularly invited to play and record on historical baroque and classical natural horn with groups such as the 'Tafelmusik Baroque Orchestra', the Basel Chamber Orchestra and the Bach Collegium Japan.
Olivier Darbellay is currently Principal Horn at the Bern Symphony Orchestra, the Basel Chamber Orchestra and the Gstaad Festival Orchestra. Since 2001 he is professor at the Conservatoire de Lausanne and will fill the same position at the Musikhochschule Lucerne in 2010.
CD recordings for ECM, Grammont, Cascavelle, cpo and Divox.