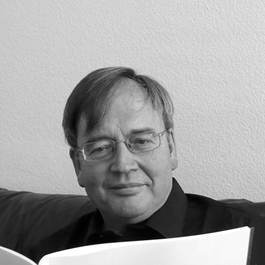 Jean-Luc Darbellay
Download: short / long / Biographical information and list of works held at the Médiathèque Valais
Born 1946, graduated at the Berne Conservatory and studied first clarinet and later composition with Cristóbal Halffter and Dimitri Terzakis. He then attended masterclasses at the IMF Lucerne with Heinz Holliger, Klaus Huber and, as his assistant, with Edison Denisov. Furthermore, he attended the seminars of Pierre Boulez in Paris in the Sorbonne (Collège de France) and in the IRCAM and conducting classes with Franco Ferrara.
His widespread activities include concerts in Switzerland, often in intense collaboration with Swiss Radios and TV who lead to several commissions: Ecumes for string quartet, premiered in Montréal, Oyama, a piece created by l'orchestre de la Suisse Romande with maestro Fabio Luisi (the German creation took place in the Gewandhaus Leipzig), Cosmos for multipercussion and orchestra with Dame Evelyn Glennie was premiered during the residence by the Orchestre de Chambre de Lausanne (season 2011/12), conducted by Pascal Rophé. Both orchestral pieces were filmed by the swiss french television. He was also composer in residence in Gstaad (Les sommets musicaux) in the same year. Dernière lettre à Théo (text: Metin Arditi) was premiered by the Orchestre de la Suisse Romande in the Victoria Hall in Geneva with the soloist Rudolf Rosen (baritone). Trittico for Alphorn, natural horn and modern horn followed in the Zürich opera house with Olivier Darbellay as a soloist and the Philharmonia Orchestra, conducted by Fabio Luisi. Mario Venzago committed Convergences for the Berne Symphony Orchestra and premiered it in November 2014 in the frame of the project "oeuvres:suisses", sponsored by Pro Helvetia. 2015 Philippe Bach created Lueur de l'aube with the Berne Chamber Orchestra. In the same year Olivier Darbellay created Once upon a time for alphorn and strings with the Camerata Zürich in the Tonhalle. 2016 Anges-l'univers mystérieux de Paul Klee was premiered in Victoria Hall in Geneva with the Orchestre de la Suisse Romande conducted by Hartmut Haenchen.
In Paris (Maison de Radio France) took place the premiere of his Concerto pour violoncelle, the french premiere of -la- (by the Ensemble Contrechamps), the creation of Dolmar, a commission by Radio France (with the Ensemble Accroche note), both in the frame of the Festival Présences de radio France. Incident Room based on a text by Ken Edwards was premiered in the Théâtre Molière by Noëlle-Anne Darbellay, violin and voice. Mater dolorosa, a commission of the city of Paris was created in the Auditorium St. Germain. Olivier Darbellay was the soloist of Mégalithe-Lutèce with the Tokyo Sinfonietta in the cité de la musique under the direction of Yasuaki Itakura (Présences).
Echos for horn and orchestra, a commission by Radio France, was premiered in Montpellier with Jean-Jacques Justafré and the philharmonic orchestra of Radio France, conducted by Ilan Volkov (Présences). Concerts broadcasted by Deutschlandfunk took place in the Arthmeum in Bonn with the Leipzig Hornquartet and the Leipzig Percussion Ensemble and ORION Ensemble. 2006 "Atelier neuer Musik", Radio Portrait by the DF.
Commissions of the MDR (Mitteldeutscher Rundfunk) lead to Ein Garten für Orpheus, premiered in the Bauhaus of Dessau, to Sozusagen (both pieces in relationship with Paul Klee) and to the world premiere of his Requiem in the Gewandhaus with soloists, choir and orchestra under Fabio Luisi. The swiss premiere of Requiem with the conductor Emilio Pomàrico took place in the frame of the Lucerne festival. 2013, Eco for alphorn and orchestra was premiered in Brno during the festival Swiss spring Prague by Radek Baborák as a soloist and Kaspar Zehnder, leading the Brno Philharmonic. 2014 Genesis, a piece about a picture of Paul Klee was premiered by the Notabu Ensemble, conducted by Mark-Andreas Schlingensiepen in the opening concert of the festival of contemporary music at the Tonhalle Düsseldorf. In the same year Ciel étoilé for piano was premiered in the Goethe Institut Tokyo by Satoko Inoue.
Numerous other festivals included pieces of J-L. Darbellay in their programs: Alternativa Moscow, Panasiatic Seoul, Kazan Europe-Asia, Kaunas, Brucknerfest Linz, Wien modern, Prag Premieres, Odessa 2days and 2nights, Kiev Fest, Weimarer Frühjahrestage, Sankt Petersburg.
Several times pieces of J-L. Darbellay were included in the program of the ISCM World Music Days.
He wrote 7 pieces for Siegfried Palm. 1992 collaboration with John Cage in Perugia during his last festival in Europe and world premiere of Lebenslauf by György Kurtág with Elsbeth Darbellay (both bassethorn) at the WDR Festival in Witten.
Concerts and recordings took place with the Radio Symphony Orchestra Stuttgart, the MDR-Symphony Orchestra, Moscow Philharmonic, Orchestre philharmonique de Radio France, Hong Kong Symphony Orchestra, Tokyo Sinfonietta, Hofkapelle Meiningen, Romanian National Orchestra, Philharmonic of Brno, Ucraine National Orchestra, String Orchestra of New York, National Orchestra of Brazil, Santa Fé Philharmonic Orchestra, National Thailand Philharmonic, Orchestre de la Suisse Romande, Philharmonia Orchestra Zürich, Orchestre de Chambre de Lausanne, Chamber Orchestra Basel, Camerata Berne, Camerata Zürich, Berne Chamber Orchestra, Orchestra della Svizzera Italiana, Bienna Symphony Orchestra, Berne Symphony Orchestra and Chamber Orchestra Thurgau (Claude Villaret).
Jean-Luc Darbellay was the founder and the first president of the Swiss ISCM Section (1995-2007) and board member of the ISCM (2003-2007). He organized the successful World New Music Festival in Switzerland 2004.
In 2003 he founded the concert row and festival l'art pour l'Aar Berne and la scène pour la Seine Paris (2008) with some Swiss composer colleagues.
He won the jubilee-prize of the Berne Symphony Orchestra 2002 with his piece Ondes.
In 2005 he was honoured by the French State as "Chevalier de l'Ordre des Arts et des Lettres".
All his works (with a few exeptions) are published by Ricordi. Claves realized 2009 a portrait-CD in co-production with the Mitteldeutscher Rundfunk (MDR), Musiques Suisses – Grammont Portrait published 2011 a CD with essentially chamber music.
The Médiathèque Valais published a complete documentation "Jean-Luc Darbellay, compositeur, éléments biographiques et liste des oeuvres".