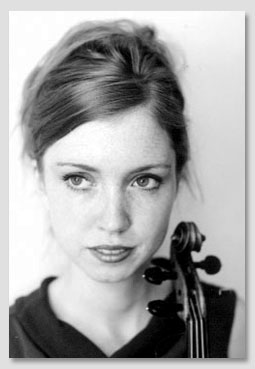 Noëlle-Anne Darbellay, violin
was born in 1980 in Bern. After studying at the University of the Arts in Utrecht (Netherlands) with Karen Turpie, she graduated with a master's degree in performance at the Geneva/Neuchâtel University of music under the guidance of Stefan Muhmenthaler, whom she now assists for the section of contemporary violin music.
She received valuable insights from David Takeno, Felix Andrievsky, Bruno Canino, Siegfried Palm and for the baroque violin from Julia Schröder.
As a soloist she has played at the Philharmonie Luxembourg with the Sinfonietta Luxembourg, at the Musiksommer Ernen, Festival l'art pour l'Aar Bern and at the Rencontres musicales de Champéry. As a chamber musician she has appeared a.o. at the ISCM World New Music Days, Music Documents Tokyo, New Music Festival Krakau and the Festival International de musique Tibor Varga in Sion.
She plays with the Basel Chamber Orchestra, Nouvel Ensemble Contemporain, Chamber Aartists Orchestra (Chaarts) and the Gstaad Festival Orchestra.
Noëlle-Anne Darbellay's particular interest lies in contemporary music and music theatre. She has premiered numerous compositions for singing and reciting violinist and has been invited to perform at the Albertina Vienna, l'Archipel Paris, Performance festival at the ARM Maastricht, Centre Dürrenmatt Neuchâtel and the Jürg Wyttenbach Festival Dampfzentrale Bern. Her performances have been broadcast on Deutschlandfunk, Radio Denmark and Espace2.
2011 she received the recognition award by the music committee Bern.